This month at 
Art With Heart (http://www

NULL

.eileenhull

NULL

.com/2015/04/art-with-heart-challenge-april-spring-break

NULL

.html)
 the Inspiration Team are celebrating the release of Eileen Hull's Vintage Travel Collection which will be available in the shops from May 2015.  All month long there will be lots of inspiration there and of course, the 
Art With Heart Challeng (http://www

NULL

.eileenhull

NULL

.com/2015/04/art-with-heart-challenge-april-spring-break

NULL

.html)
e is also running, with the theme of 'Spring Break.  One lucky participant will win a die from the new Vintage Travel range, which you can see 
HERE (http://www

NULL

.sizzix

NULL

.com/catalog#q=Eileen%20Hull%20Vintage%20Travel)
.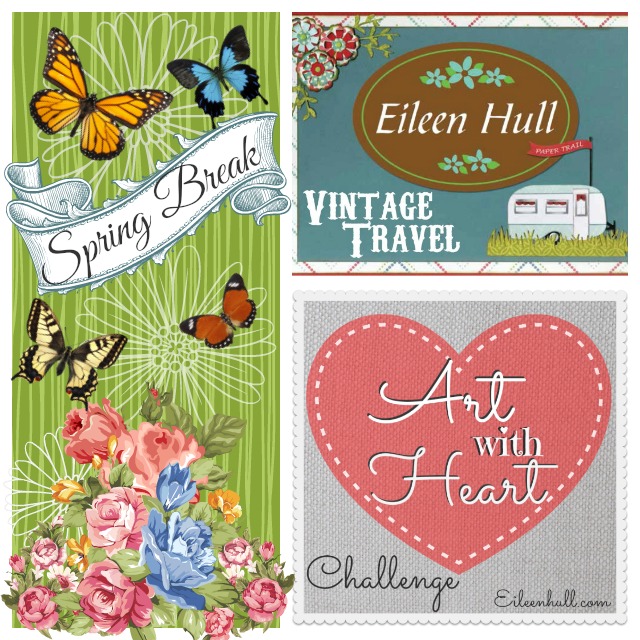 for my project this month i chose to use deco art's line of media paints and mediums to create a new / old version of the train case as well as decorate a framed treasured picture of my mom.
so i started by covering all my mat board pieces with   
DecoArt's (http://www

NULL

.decoart

NULL

.com/)
  chalkboard paint in treasure to which i then added it too some sand paste. i wanted my case to have a slight texture to it
once it was dry i then added some creme wax. i was going to try the raw umber but decided the wax would give me more of the workability i needed to create the perfect look.
i dug out from my paper stash a piece of the Nostalgia collection by My Minds Eye to cover the inside of my case. it is a perfect match don't you think!
and a couple of close ups to show you the texture
the frame in the background started out as a basic wooden frame which i added layers of  
DecoArt's (http://www

NULL

.decoart

NULL

.com/)
 new Media Range of products and
Stampendous (http://www

NULL

.stampendous

NULL

.com/products-page/mixed-media-product-type/stack-art-rubber-stamps-angel-wings-kit/)
 stack art set,   sanding between layers to give it that nostalgic look and feel
i had stencilled 'be strong' from Dina's stencil set but decided that the actual message from my mom should be and would be for me to  'be happy' so i stencilled over it using some sand paste.
well there you go.. my piece for this months challenge. i do hope you take the last few days of this month to do yours and enter for your chance to win one of Eileen's wonderful new dies!!
diana